There is a common misconception that people who follow a vegetarian or vegan diet do not get enough protein in their diet, particularly when they are looking to increase muscle growth.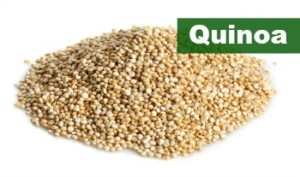 Yes, a 100g piece of lean chicken or beef will typically provide you with around 27g of protein but did you know that a cup (uncooked) of the gluten-free grain 'quinoa' comes close to this at approx 24g? It also contains all NINE essential amino acids, is low-fat, cholesterol-free and a great source of fibre and iron.
Remember, the important thing is to eat a balanced, healthy diet which combines the correct ratio of the right carbohydrates, protein and fats for your body and the amount of exercise you do. It is not a 'one size fits all' model – if you are not sure what you should be eating, speak to your personal trainer / nutritionist (not got one / can't get to the gym – drop me a message and I can introduce you to a great, affordable, online personal trainer I use myself).
So if you are looking for some plant based protein ideas, here are 5 food groups for you to check out – which do you fancy building into your daily diet?
| | | |
| --- | --- | --- |
| Teff | 1 CUP | 26g |
| Quinoa | 1 CUP | 24g |
| Oatmeal | 1 CUP | 14g |
| | | |
| --- | --- | --- |
| Cooked Lentils | 1 CUP | 18g |
| Black Beans | 1 CUP | 15g |
| Cannellini Beans | 1 CUP | 15g |
| Chickpeas | 1 CUP | 14.5g |
| | | |
| --- | --- | --- |
| Almond | 1/4 CUP | 16g |
| Cashew | 1/4 CUP | 12g |
| | | |
| --- | --- | --- |
| Almonds | 1 CUP | 24g |
| Walnuts | 1 CUP | 24g |
| Pine | 1 CUP | 18.5g |
| Cashews | 1 CUP | 11g |
| Macadamia | 1 CUP | 10.6g |
| | | |
| --- | --- | --- |
| Pumpkin Seed | 1/2 CUP | 19.5g |
| Flaxseed (also known as Linseed) | 1/2 CUP | 7.6g |
Got any great plant based protein recipes to share? We would love to hear about them – simply comment below, or alternatively if you are looking for some healthy meal ideas, download your FREE copy of our Healthy Revolutions Recipe Book: