1 Frozen Banana (slice before freezing)

100g (or 2/3rds of a cup) of Berries

50g (1/3 of a cup) of oats

1 Tablespoon Grated Coconut

100-200ml (1/3rd to 1/2 cup) of Almond Milk

Complete bar, fresh fruits , walnuts and coconut chips to garnish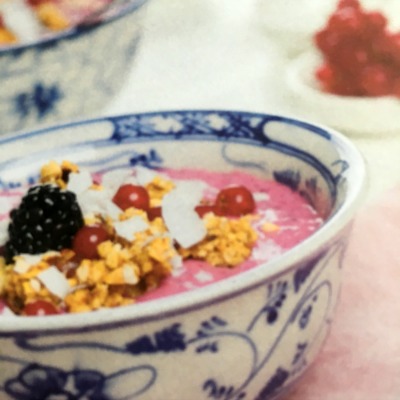 Full of flavour, this berry breakfast bowl with added protein, packed with healthy, wholefood nutrition, is a perfect way to start the day:
Place the banana, dates, berries, protein powder into a blender.  Add half of the milk & blend.
Add the rest of the milk until you have a thick consistency (suitable to be eaten with a spoon).
Stir in the oats and coconut
Sprinkle the fresh fruit, walnuts, coconut chips and complete bar (in small pieces) on top
Enough to serve 2 – enjoy!